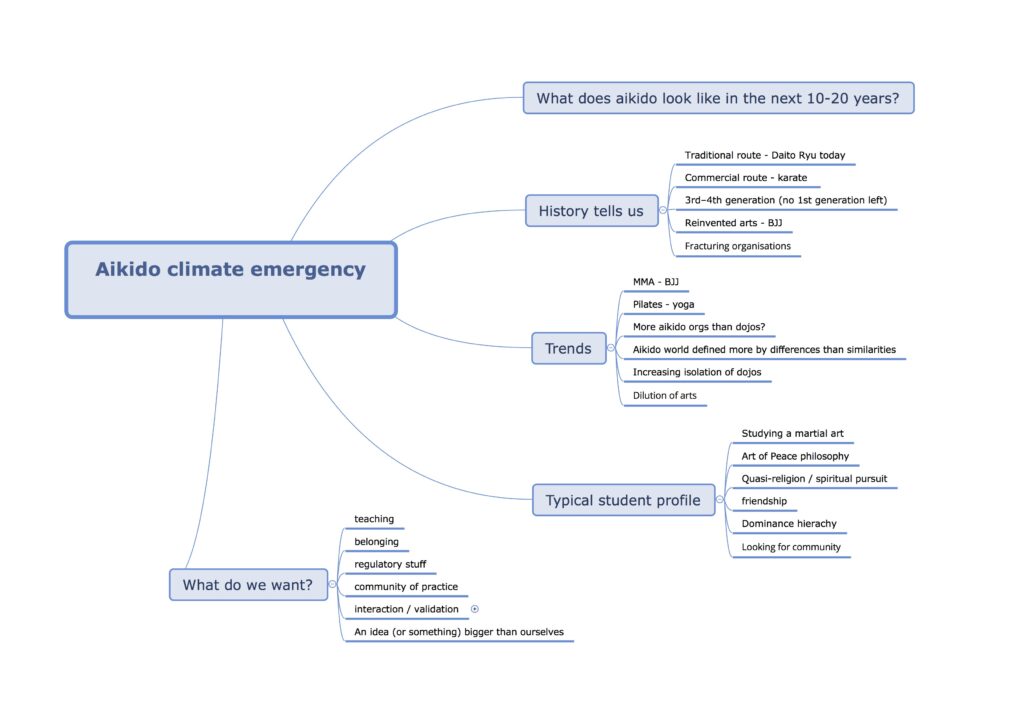 Recent years have brought its challenges (but also new opportunities like online training) and a shift in demographic of classes to older people. Syllabus and instructor-led training was highly valued but some have found different styles of learning to be helpful such as principle-based learning. A demonstrable martial effectiveness was seen as important, though didn't need to lead to rough practice and there was a reminiscence of polarising people like "Steven Seagal" love him or hate him, who gave Aikido credibility in the public eye.

Quite a few participants have practiced other arts over the years and remarked Aikido had something special that these other arts didn't but more work needed to be done to change public perception around this if we would like more people to be attracted to aikido, especially younger participants.
There was quite a bit of discussion around fracturing, how it limits interaction and the feeling of belonging to something larger than the 8 people we train with every week. Many felt that a sense of community and a recognising of the past (rather than rewriting it) was important. It was seen that we need to work beyond hierarchy and see our roles and responsibilities being largely to empower others to be their best.
In particular the dedication of Michael Williams Sensei to bring so many teachers, influences and syllabus development that have shaped so many of the Ki styles of Aikido in Australia now.